About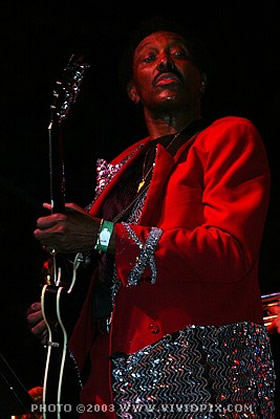 Travis' positive attitude is summarized by the remarks he uses to close each performance...
"I am the best that I can be, and since no one else can be me, there's none better!"
Travis Haddix began playing the piano at the age of seven in his home town of Walnut, Mississippi, located thirty miles south of Memphis, Tennessee. The turning point in his musical learning experience came when he was eight, when the legendary B.B. King came to Memphis and began playing daily at the studios of WDIA. Travis was awed by King's guitar virtuosity and he hung around the radio station every day to learn all he could. Soon, Travis' piano playing fell by the wayside and was replaced by the guitar, which he plays on stage and in the studio.
Years later, the Haddix family moved to Milwaukee, Wisconsin where Travis, now a budding star, continued to refine his craft by singing and playing throughout the North. The original "Moonchild", he earned the nickname from his beaming presence on stage and his always broad smile and energetic, sexy performances. In 1959, Travis moved to Cleveland, Ohio where he joined the D.L. Rocco Band and achieved regional notoriety that led to a prominent spot with the Little Johnnie Taylor group. Travis also contributed material to five albums by Artie "Bluesboy" White. His material is also covered by Artie "Bluesboy" White, Dickie Williams, Jimmy Dawkins, Michael Burks, Charles Wilson, the late Son Seals, and Lee Shot Williams.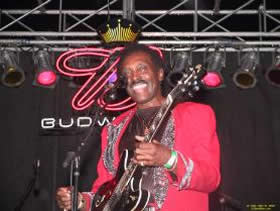 Haddix has received rave reviews in Living Blues Magazine, Blues Revue, Real Blues, Big City, Jefferson and Audience Magazine, and he has toured Europe since 1992. His style evokes the sounds of the great Stax-Volt days, when the likes of Sam & Dave ruled the urban blues roost. His fifth release on Ichiban Records is A Big Ole Goodun', featuring the Travis Haddix band (together since 1988). He proves, once again, that he is a fixture in the modern blues industry with songs like: "Make Me Say Please" , "From Bad to Worse", and the made-for-jukebox single, "(She Called Me) Knucklehead".
Travis received 4 awards in 1999: Best Male Blues Artist, Best New Blues Artist, Best Blues Entertainer and Contemporary Blues Artist Of The Year. In 1989 he founded Haddix Publishing Company and Wann-Sonn Records, and recorded ten CDs under his own label. In 2007, Travis won the Gay Rose Production Keeping the Blues Alive Award.
Next time you have a chance, check out the movie April's Fool which features Travis' hit song, Everything Is Everything.
In 2007, Travis' single, "Dick for Dinner" from "Mean Ole Yesterday" was nominated Best Blues Song by the Blues Critic Awards 2007 Readers Poll-Comtemporary Blues. Travis was in great company; the prize was awarded to Omar Kent Dykes & Jimmie Vaughan.